Ease Into Your Gisborne Holiday
With Affordable, No Fuss Travel Plans,
Made Right Here At The World's Edge
Travel: New Zealand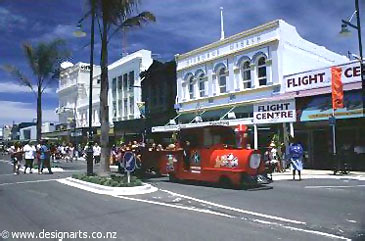 Gisborne's city centre is the place to go for all of your travel needs. Many travel agents can be located within three or four blocks and in the photo above is the Flight Centre.
Travel to, from and around New Zealand without a concern... let our experienced travel advisors take care of your vacation needs and wants for you.
Whatever your holiday requirements may be... flights, travel insurance, accomodation, transport, package holidays, tours, cruises, discounts or foreign currency, there is something for everyone and a variety of options to chose from.
Throughout the country there are a number of national and independently owned travel businesses whose focus is their customers and their specific needs and wants. Only a phone call away, they are there to make that holiday something the whole family will never forget!!!!
Quality, efficient and affordable service will be with you all the way. Remember we are here to help you and can even advise you with your very own itinery.
New Zealand's travel options will cater to anyone's needs. Whether you chose to fly, enjoy a scenic bus or train journey, hire a car, do it yourself and bike, or hit the water and take in the picturesque views from the open seas, depends on your individual situtaion.
Travel: East Coast
Experience a holiday that is unique and exciting, travel to the East Coast of New Zealand where you will be surrounded by endless sun, wine and delicious cuisine.
Ease into your stay here with no fuss travel options including daily passenger, air and bus connections to the other main centres in the North Island.
Very reliable and affordable, you will be most impressed with the range of travel services available to you.
So venture out to the sunny Coast and experience a holiday like never before, at the world's edge.
Cruise Around The Coast With The Help Of New Zealand's Transport Services